SCIRES-IT, e-ISSN 2239-4303, provides a forum for the exchange and sharing of know-how in the areas of Digitalization and Multimedia Technologies and Information & Communication Technology (ICT) in support of Cultural and environmentalHeritage (CH) documentation, preservation and fruition. It publishes comprehensive reviews on specific fields, regular research papers and short communications in a timely fashion. The Journal aim is to encourage scientists to publish their experimentalresults and theoretical work in a comprehensive way. Restrictions on the length of papers is negotiable with the Editors.
SCIRES-IT is indexed in SCOPUS  and in WoS Core Collection (ESCI)
SCIRES-IT is ranked by ANVUR as a "Scientific journal" for Areas 10-11-13-14 and it is rated "CLASS A" Journal for the Area 08 - Architecture
Announcements
No announcements have been published.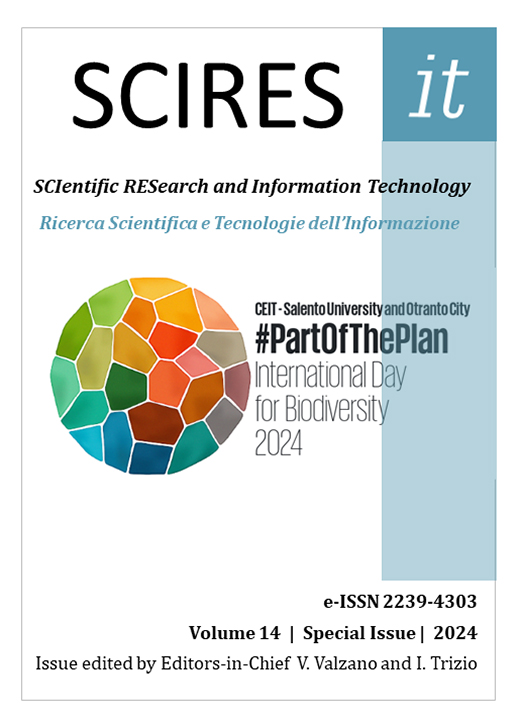 Volume 8, Issue 2 (2018)
Issue edited by Editors in-Chief V. Valzano and M. Cigola
Table of Contents
Articles
| | | |
| --- | --- | --- |
| | Virginia Valzano, Michela Cigola | I-III |
| | | |
| --- | --- | --- |
| | Cecilia Mazzoli, Alessandro Fabbri, Federico La Piccirella | 15-28 |
| | | |
| --- | --- | --- |
| | Fabio Bianconi, Marco Filippucci, Federica Magi Meconi | 29-48 |
| | | |
| --- | --- | --- |
| | Silvia Gargaro, Matteo Del Giudice, Pablo Angel Ruffino | 49-58 |
| | | |
| --- | --- | --- |
| | Josefina García-León, Paloma Sánchez-Allegue, Concepción Peña-Velasco, Luca Cipriani, Filippo Fantini | 59-76 |
| | | |
| --- | --- | --- |
| | Adalberto Ottati, Silvia Bertacchi, Benedetta Adembri | 85-106 |
| | | |
| --- | --- | --- |
| | Alessandra Bosco, Michele Zannoni, Elena La Maida | 121-133 |