SCIRES-IT, e-ISSN 2239-4303, provides a forum for the exchange and sharing of know-how in the areas of Digitalization and Multimedia Technologies and Information & Communication Technology (ICT) in support of Cultural and environmental Heritage (CH) documentation, preservation and fruition. It publishes comprehensive reviews on specific fields, regular research papers and short communications in a timely fashion. The Journal aim is to encourage scientists to publish their experimental results and theoretical work in a comprehensive way. Restrictions on the length of papers is negotiable with the Editors.
More ...
SCIRES-IT is indexed in SCOPUS and in WoS Core Collection (ESCI).
SCIRES-IT is rated in SJR SCImago Journal Rankings.
SCIRES-IT is rated  by ANVUR "CLASS A" Journal for the Area 08 – Architecture and it is ranked as a "Scientific journal"  for Areas 10 -11-13-14.
Announcements
CALL FOR PAPERS Vol. 11 N° 1 (2021)

SCIRES-IT Vol. 11 N° 1 will be an issue on Digital Cultural Heritage, arts reproduction and museum systems. Languages and techniques in a covid and post-covid scenario for new forms of heritage against the silence of a fragile culture; it will be edited by Guest Editors Paolo Clini and Ramona Quattrini, Editors-in-Chief Virginia Valzano and Michela Cigola.

This issue is scheduled to be published in June, 2021

DATES AND DEADLINES
March 30, 2021: Submission for full papers
April 30, 2021: Notification of Refereeing 
May 15, 2021: Camera ready full papers to printer

Posted: 2021-01-01
More...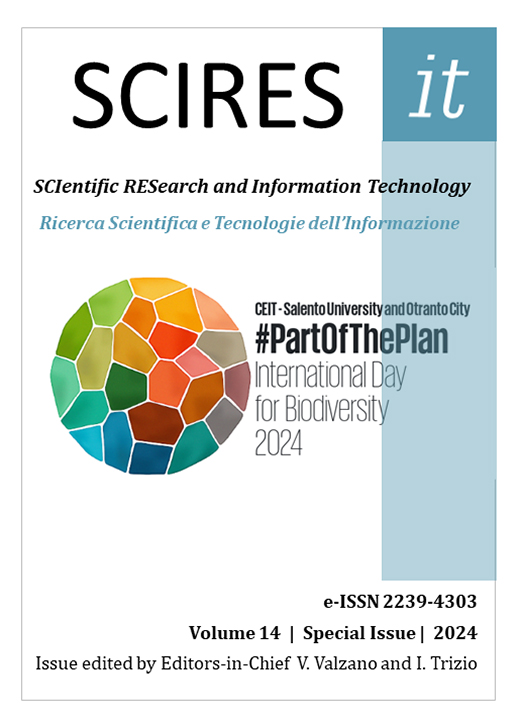 Volume 10, Issue 2 (2020)
Issue edited by Editors in-Chief V. Valzano and M. Cigola
Table of Contents
Articles
| | | |
| --- | --- | --- |
| | Virginia Valzano, Michela Cigola | I-IV |
| | | |
| --- | --- | --- |
| | Virginia Valzano, Katia Mannino | 1-18 |
| | | |
| --- | --- | --- |
| | Andrea Nanetti, Davide Benvenuti, Matteo Bigongiari, Zaqeer Radz, Stefano Bertocci | 19-36 |
| | | |
| --- | --- | --- |
| | Maurizio Romani, Bernardo Rapi, Sonia Cacini, Daniele Massa, Francesco Mati, Leandro Rocchi, Francesco Sabatini, Piero Battista | 37-52 |
| | | |
| --- | --- | --- |
| | Giacomo Vizzino, Giovanni Mastronuzzi | 53-64 |
| | | |
| --- | --- | --- |
| | Fabrizio Avella, Filippo Schilleci | 65-80 |
| | | |
| --- | --- | --- |
| | Francesco Caridi, Barbara Testagrossa, Pasquale Faenza, Giuseppe Acri | 81-88 |
| | | |
| --- | --- | --- |
| | Loredana Matera, Raffaele Persico, Grazia Semeraro | 89-98 |
| | | |
| --- | --- | --- |
| | Barbara Aterini, Sabrina Giuricin | 99-116 |
| | | |
| --- | --- | --- |
| | Riccardo Porreca, Vasiliki Geropanta, Karen Abril, Dario Giordanelli | 117-130 |
| | | |
| --- | --- | --- |
| | Enrica Petrucci, Diana Lapucci, Noemi Lapucci, Lucia Barchetta | 131-140 |
| | | |
| --- | --- | --- |
| | Fabio Bianconi, Marco Filippucci, Filippo Cornacchini | 141-158 |
| | | |
| --- | --- | --- |
| | Stefania Proli, Francesco Tortori | 159-172 |
| | | |
| --- | --- | --- |
| | Valentina Castagnolo, Gabriele Rossi, Anna Christiana Maiorano | 173-186 |